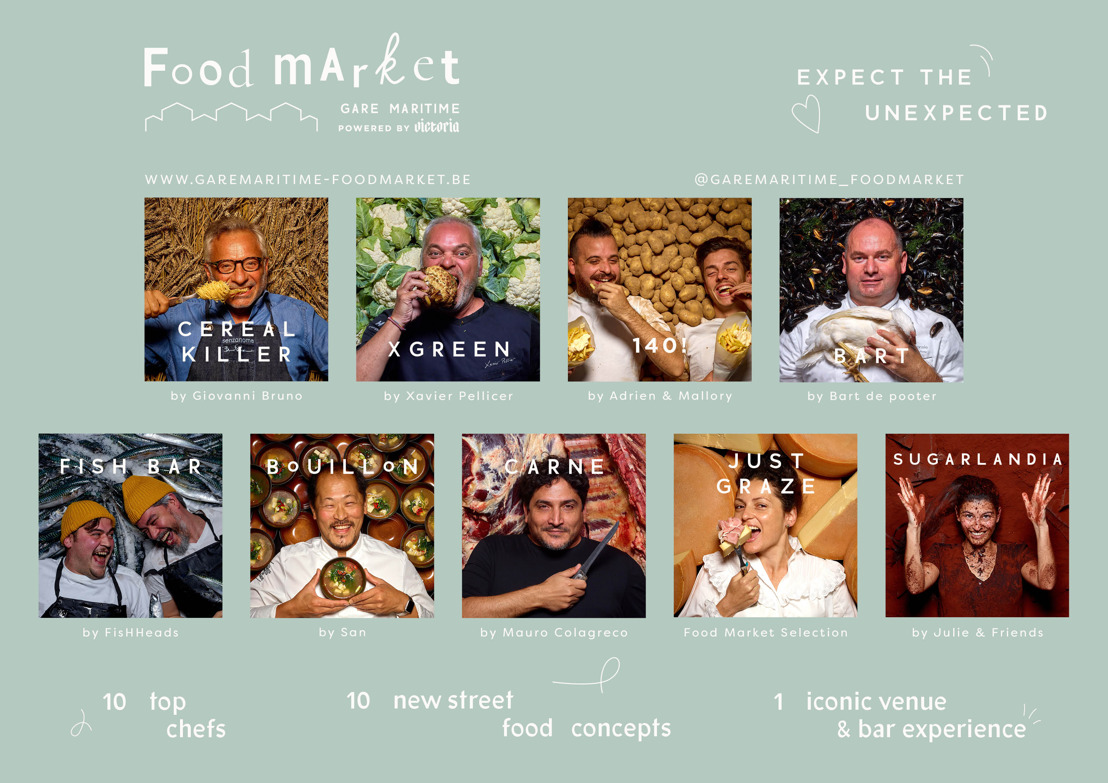 Welcome to Gare Maritime Food Market, Brussels' new culinary hotspot
From 18.30 on Friday 26 November, Brussels will have a new culinary hotspot. That's when the brand new Gare Maritime Food Market opens in the heart of Tour & Taxis. Featuring several top chefs, the site offers 10 surprising Belgian street food and drink concepts. Gare Maritime Food Market, operated by the Belgian brewer AB InBev, is an ode to Belgian cuisine and culture, in a typical food market atmosphere.
The special location on the restored Gare Maritime site makes this concept a unique culinary experience. With 10 brand new concepts from renowned chefs, there's something for everyone – including Bouillon by San, where a combination of tastes with an exotic twist is central; Carne, where Mauro Colagreco spotlights the first innovative burger chain with a B-Corp certificate; and 140! brought to you by Malory Gabsi and Adrien Cachot, who present potatoes in a variety of creative ways. All 10 concepts are listed in the attachment. With these unique proposals, the Food Market brings together the very best of Belgian gastronomy and offers something different.
Pieter Anciaux, horeca manager Belgium at AB InBev: 
"The location, the choice of top chefs and the local impact make it unique in Belgium. As a Belgian brewer, we are extremely proud of this achievement. These are our first steps towards operating a business. It's an exclusive way to experience Belgium's world-famous food and beer culture in a unique setting. With our Victoria Bar at the heart, we want to showcase our beautiful Belgian beers and other Belgian beverages."
Peter De Durpel, COO Nextensa:
"Gare Maritime is the most significant sustainable and architectural flagship in Brussels and therefore the perfect place to highlight the rich Belgian culinary tradition, as well as those of cultures that co-define Brussels' cosmopolitan personality. By hosting such an innovative concept and collaborating with AB Inbev, Nextensa contributes to foster the social dimension of food and makes it an impactful experience."
Chef Patrick Aubrion & friends hosts the concept Sugarlandia:
"Being part of the Food Market was a no-brainer for me, with our desserts as the cherry on the top. I'm really looking forward to immersing visitors in a true Belgian culinary dream, along with the other chefs, each of us in our own way."
A unique experience in every way
At the Gare Maritime Food Market, not only will you discover culinary delights from top chefs. Every day there's something new to experience. The large Gare Maritime hall offers endless possibilities to provide a range of events for a varied audience at this prime location. ​
In the Bosch food studio, for example, visitors can take part in workshops, master classes and exclusive competitions. In addition, the Gare Maritime Food Market will feature live concerts and fun theme days, such as a 'kidssunday' for children. ​
Gastronomy with a positive local impact  
The Gare Maritime Food Market is also conscious of local and social connections. For example, when selecting ingredients, sustainability is key: like at Permafungi, which supplies mushrooms to the chefs, and the Victoria Bar, which supplies coffee grounds as fertiliser for the mushrooms. Other concepts like using beer in a circular way will soon come to the Food Market too. 
© RTBF / Lilo Mendola
---
Practical
The Gare Maritime Food Market is home to eight restaurants, two food counters, the central Victoria Bar, 450 seats and a Food Studio.
Food concept opening hours
Sunday & Wednesday: 12.00-22.00

Thursday to Saturday: 12.00-23.00
Victoria Bar opening hours
Sunday & Wednesday: 11.00-22.00

Thursday to Saturday: 11.00-1.00
Closed
Monday & Tuesday

24 & 25 December

1 & 2 January
Ordering is done via a digital system. Gare Maritime is a covered street with plenty of ventilation. The Gare Maritime Food Market complies with all current health measures and will use the COVID-Safe app and identity checks. Face masks are mandatory when you are not seated or when social distancing cannot be respected.
Stay up to date via the Gare Maritime Food Market Instagram and website: https://www.instagram.com/garemaritime_foodmarket/
https://www.garemaritime-foodmarket.be/
Logo's of the Gare Maritime Food Market.
Pascaline Van de Perre External Communications Manager BeLux, AB InBev